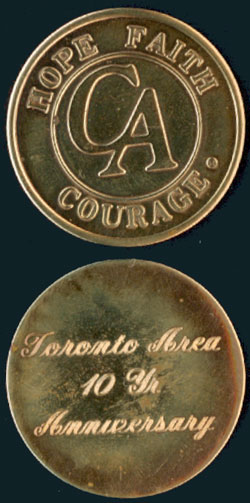 The First Toronto Group was established on February 2, 1987. According to early members, the sub-culture of cocaine users was quite different than that of A.A., so it was exciting to have a meeting focused entirely on recovery from cocaine and all mind-altering substances.
In 1997, the Toronto Area (now known as Southern Ontario Cocaine Anonymous) decided to host "TORCA I" on October 25, 1997 with the theme, "Carry The Message." C.A. original member, Johnny S. (Los Angeles, CA) would be the Saturday keyote speaker.
To raise the necessary funds to host such an event, the Toronto Area Unity Committee sponsored a number of fundraising events throughout the year. One such event was hosted by the Winner's Circle Group on Sunday, July 20, 1997. Featuring a chili dinner and a "Gold CA Medallion Raffle. The event raised $266.00 (suggested ticket price was $3.00).
The CA 10th Anniversary Commemorative Medallion pictured here was won by Henry B. I had heard about this medallion through my talks with early member Jimmy B. (Toronto, ON) who was the Unity Chair in 1997 and responsible for coordinating the fundraising activities for that year. Jimmy helped me locate Henry in July of 2011 and I called him to see if he still had the medallion (he did indeed still have it) and invited me to come over to see it. My intent was to photograph the object for the SOCA Archives. Upon meeting Henry and chatting with him at some length about that first Toronto Conference, he said to me, "Cameron rather that taking pictures, why don't I just donate the medallion to the archives for all of CA to enjoy. I felt like the "relic hunter" who had stumbled across some forgotten CA treasure which could now be resurrected—its story to be told again and again for the posterity of Cocaine Anonymous.
by Cameron F., Southern Ontario Cocaine Anonymous Archivist and World Archive Committee Chair