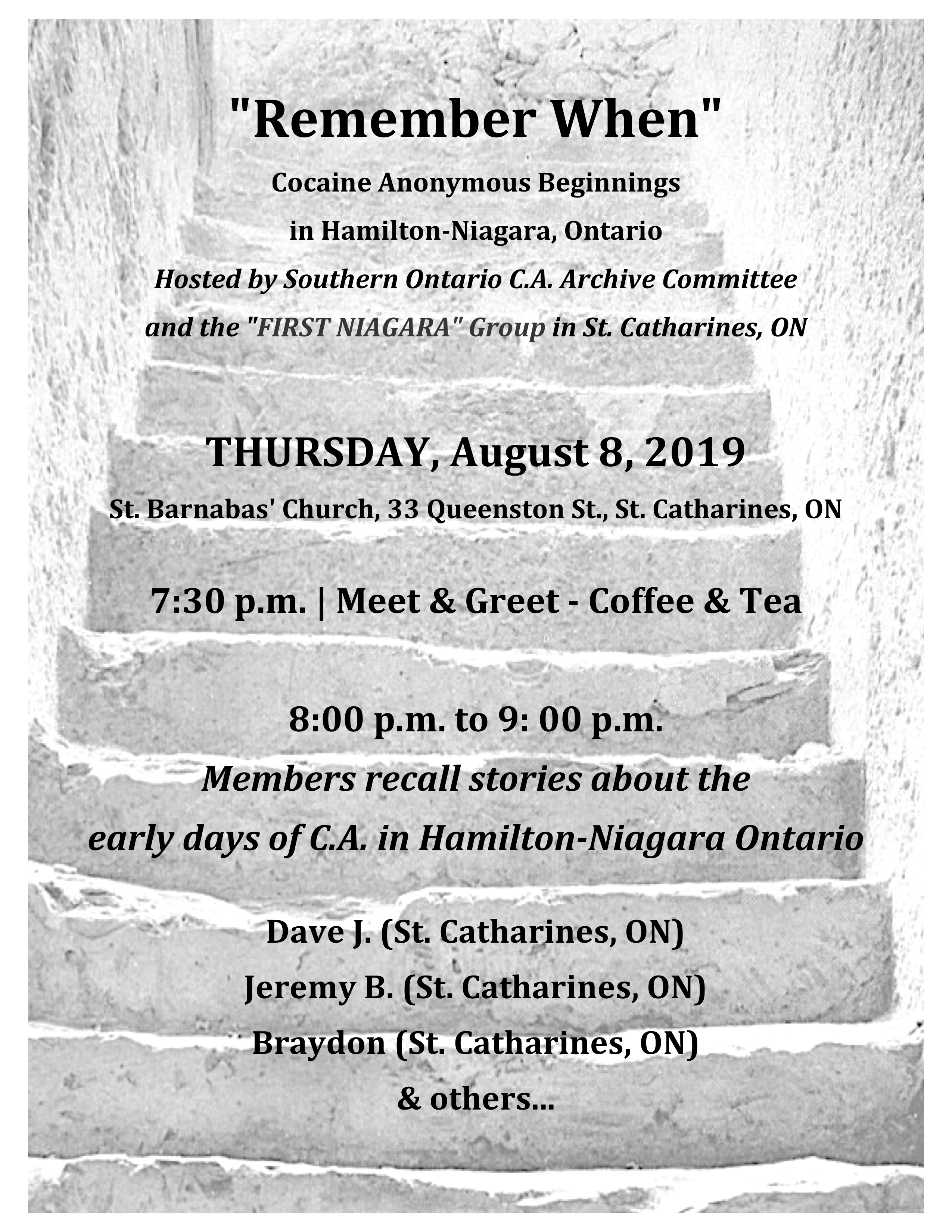 Listen to the History of First Niagara Group of C.A.
A Brief Historical Timeline of the Hamilton-Niagara Cocaine Anonymous
1st Meeting of Cocaine Anonymous, Hollywood California
November 18, 1982 
Nineteen "sober men and women" attend the Tuesday, November 16, 1982 AA meeting, called the "Whatever" meeting to talk about cocaine. It was apparent to Johnny S. and several other attendees that they needed their own meeting and thus, the first meeting of Cocaine Anonymous was held on Thursday, November 18, 1982 in Los Angeles (Hollywood), California. Veronica is the secretary and calls the meeting to order with a gavel and announces:
"Welcome to the first meeting of Cocaine Anonymous, a fellowship of men and women who share their experience, strength, and hope with each other and help others recover from their addiction."
1st Meeting of Cocaine Anonymous outside the United States
August 21, 1986, Montréal, Quebec
In 1986, Robert F. (Montreal, PQ) meets with his friend, Dave S. who is dating a woman from California who introduces him to some C.A. meetings. Dave's enthusiasm for C.A. — a fellowship where one could talk freely about drugs—inspired Robert F. and together they ordered a C.A. starter kit and on a Thursday night, August 21, 1986, the C.A. first meeting was held in Montreal, Quebec—the first C.A. meeting outside the United States. There were about 20 people who attended. Dave S. was the speaker and Robert F. was the secretary.
First Toronto Chapter – February 2, 1987, Toronto Ontario
In the winter of 1986, Colette went to Montréal where she attended a C.A. meeting, which had only been in existence a few months. At this meeting Colette met Robert F., and many other people who shared similar experiences with alcohol and drugs. Colette's response, "Oh my God I've got to bring this back to Toronto." Colette was given a "Starter's Kit" from Robert F. and so on February 2, 1987, the First Toronto Group of Cocaine Anonymous had its inception meeting at the St. Andrews United Church a on Bloor St. West, where it is still taking place today.
The original inception members of the First Toronto Chapter were Colette B.R., John J., and Joey B. (aka Popeye). They were soon followed by: John A., Chrissy Y., Abe S., Victor B.M., and Bill S. Many early C.A. members came from the A.A. Delisle Group at Yonge St. & St. Clair. The meeting later changed its name to the First Toronto Group.
First Hamilton Group, Ontario – March 2, 2000
Donna F. and Doug C. come into recovery in 1998 and start a C.A. meeting in Hamilton at the St. Giles United Church (85 Holton Ave S, Hamilton, ON) for our Thursday night meeting. Our first meeting was March 2, 2000 with about fifty in attendance—what a "RUSH" when I said welcome to the First Hamilton group of Cocaine Anonymous. Hamilton soon grew with Sunday night opening. Then Tuesday, Wednesday, Friday, Saturday and finally Monday. A Cocaine Anonymous meeting in Hamilton everyday of the week in under two years. The Hamilton fellowship had Christmas dinners for ten straight years open to all. These grew into just over two hundred addicts and families attending. There was a one-day Fifth year anniversary. It consisted of five workshops followed by a lasagna dinner and dance. Attended by almost two hundred addicts. At the tenth anniversary Hamilton had two hundred and fifty addicts for a one-day event of five speakers and our keynote speaker was Mickie B. from California. Towards the end of a 14-year run, the 1st Hamilton Group, due to declining membership, closed it doors in December 2014.
First Niagara Group – March 28th, 2002
CA in Niagara started due to the fact that some recovering addicts in Niagara were required to drive to Hamilton to attend a meeting of Cocaine Anonymous. Why not start our own meeting right here in St Catharines?? ( Jimmy J., Andrew G., Mike G., Lisa P. and others… ) It was the beginning of CA in the Niagara Region.
The 1st Niagara Group was formed and it's believed the first meeting was March 28th 2002. Followed close after on August 26, 2002 with the Courage to Change Group. A Group member list from September 2002 of the 1st Niagara Group had 42 listed members. It took several more years for CA to start to grow again. Meetings opened and closed in both Niagara Falls and Welland as some tried to expand the fellowship. At our peak we had 6 meetings a week, and we started to hold one day Round-ups from 2009 to 2013 in Niagara.
Instead of 6 GSR's going to Toronto to attend the CA Area Meeting, districting of the Niagara groups was proposed rather than the earlier controversy of Area, districting us!!! The Niagara District was formed and ran from August 26th 2012 to April 12th 2014 until it dissolved due to a smaller number of groups.
From a start in 2002 through to present there has been 15 different groups in the Niagara Region, we currently have 4 meetings open and have started having one day Round-ups again, alternating between Hamilton and St. Catharines hosting them. The next Round-up is in St. Catharines on November 16th.
Southern Ontario Cocaine Anonymous in 2019
Today 32 years later, Cocaine Anonymous in Southern Ontario numbers some 70 regular weekly Group meeting and has a presence in more than 20 hospitals and institutions across Ontario. Our meetings range from Windsor, Ontario to as far north as Ottawa, Collingwood, Orillia, and throughout the Greater Toronto Area.
Every year Southern Ontario Area hosts a three-day Convention in Toronto with more than 400 in attendance annually.
Lastly, every second Saturday of the month there is an Area Service Committee meeting whereby elected Trusted Servants and Group GSRs meet to do the work of C.A. in Southern Ontario.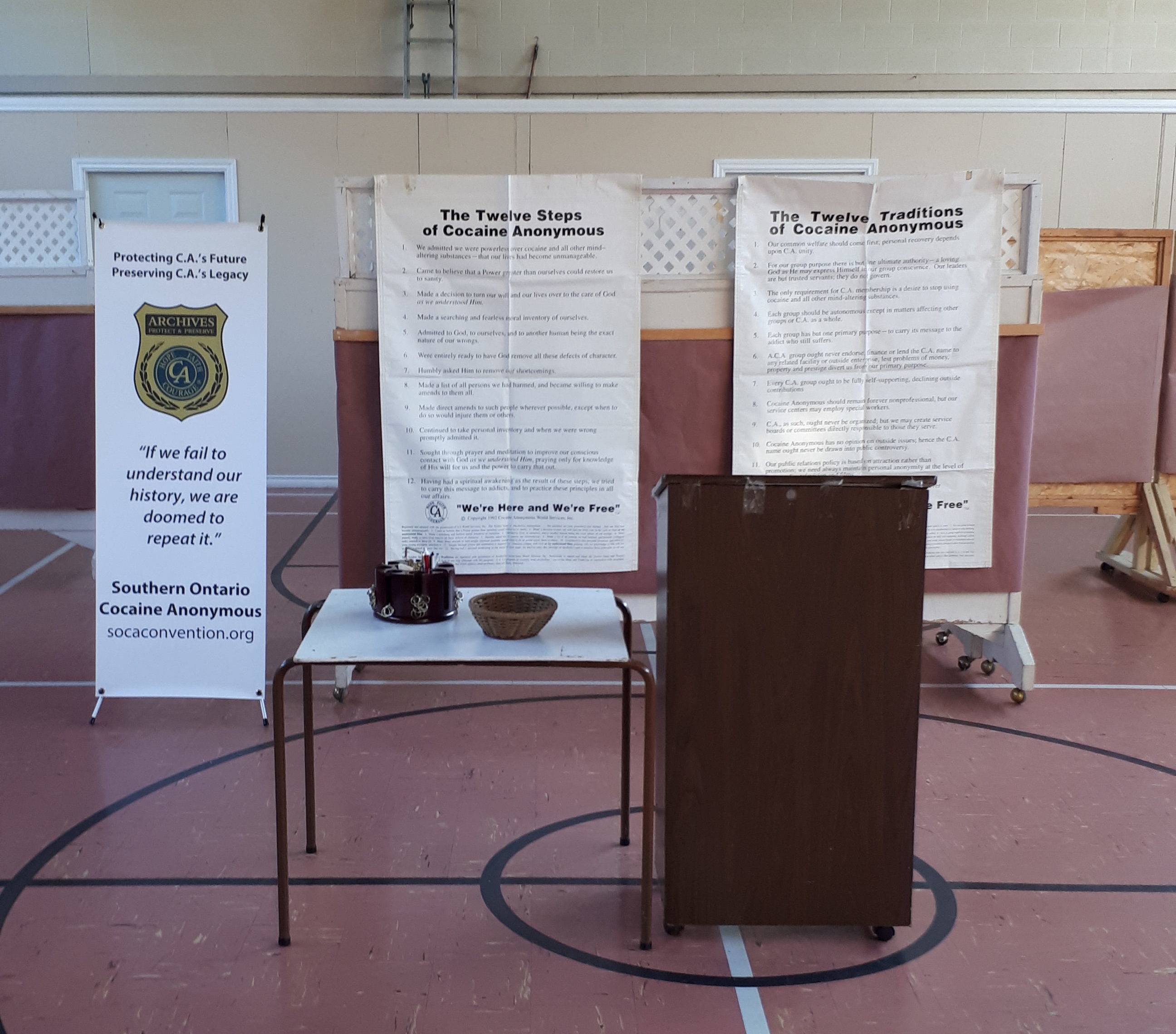 First Niagara Group – Room Setup