Introduction by Cameron F. (SOCA Archivist)
History of CA Quebec/Toronto by Robert F. (Montreal, PQ)
History of CA Toronto/Kingston by Charlie L. (Kingston, ON)
History of CA Cornwall by John G. (Cornwall, ON) & Closing by Cameron F. (SOCA Archivist)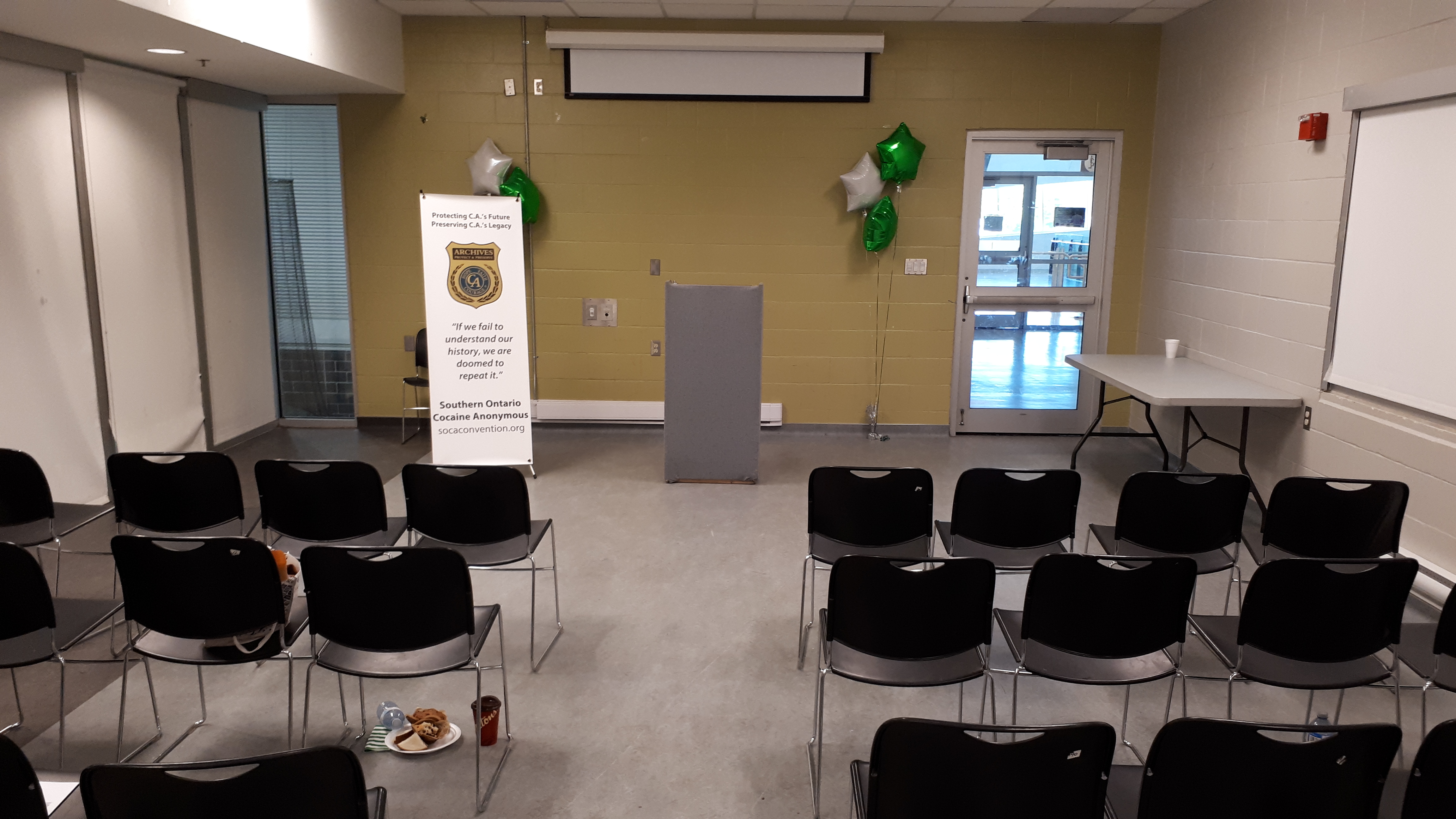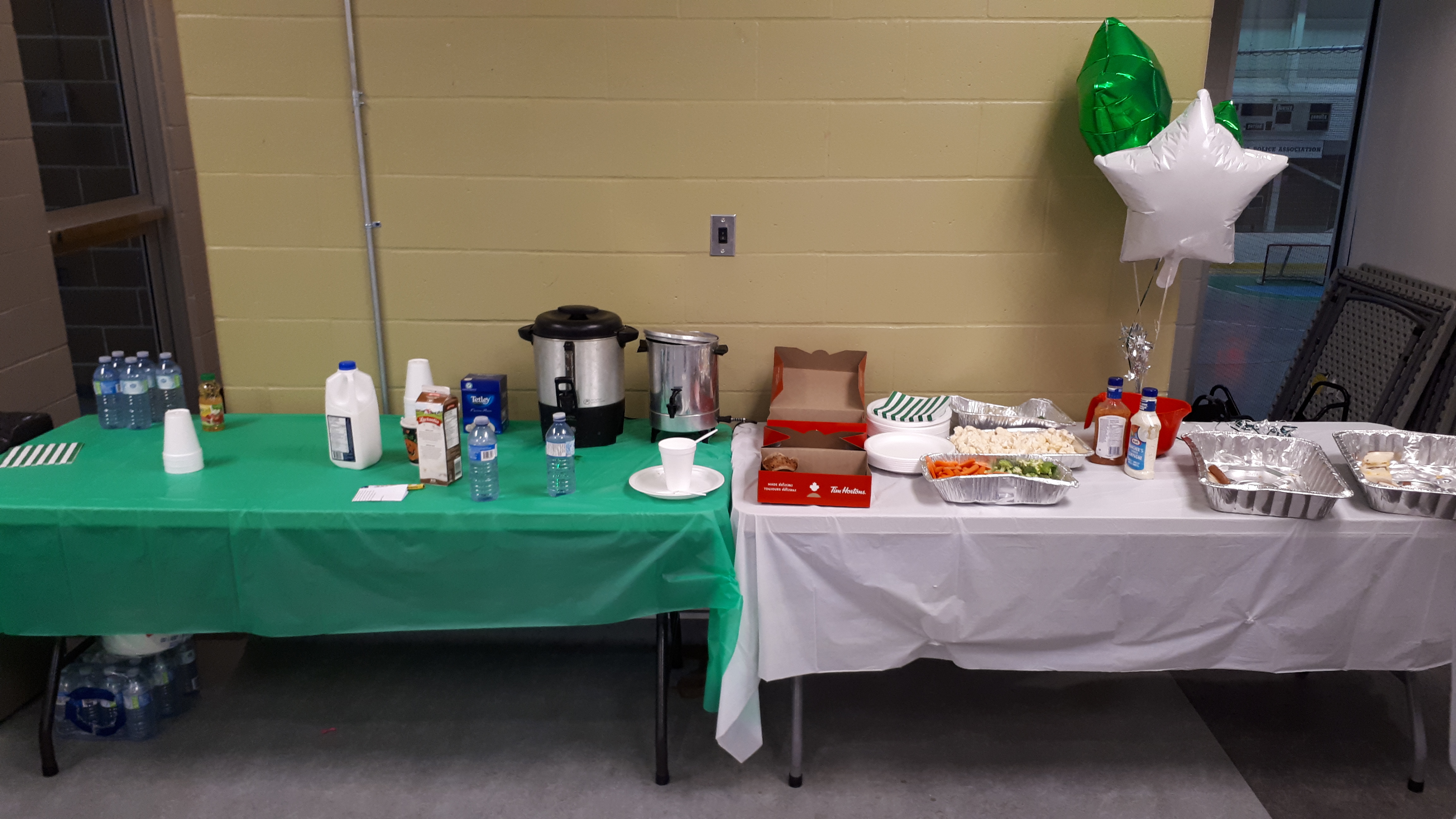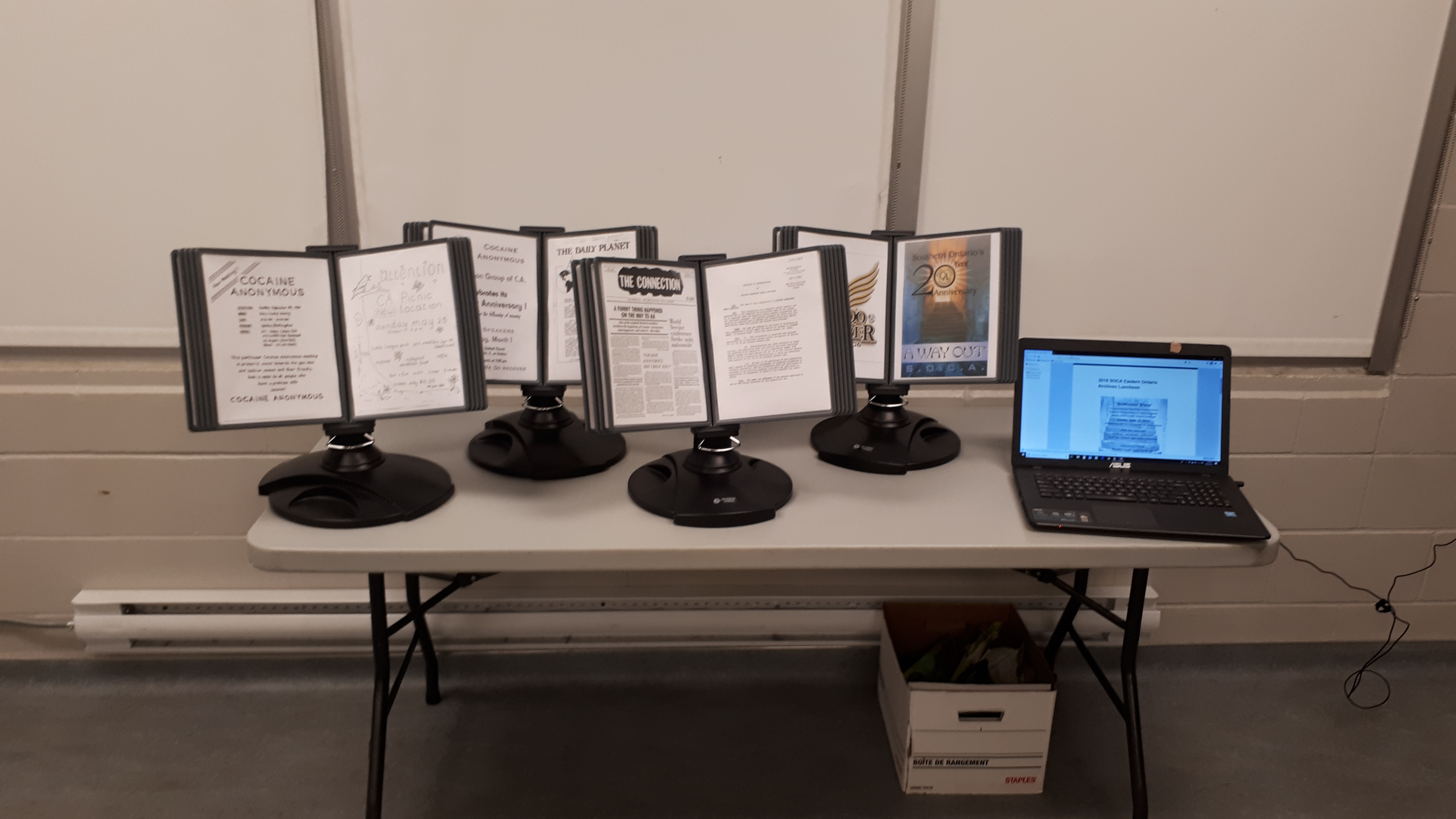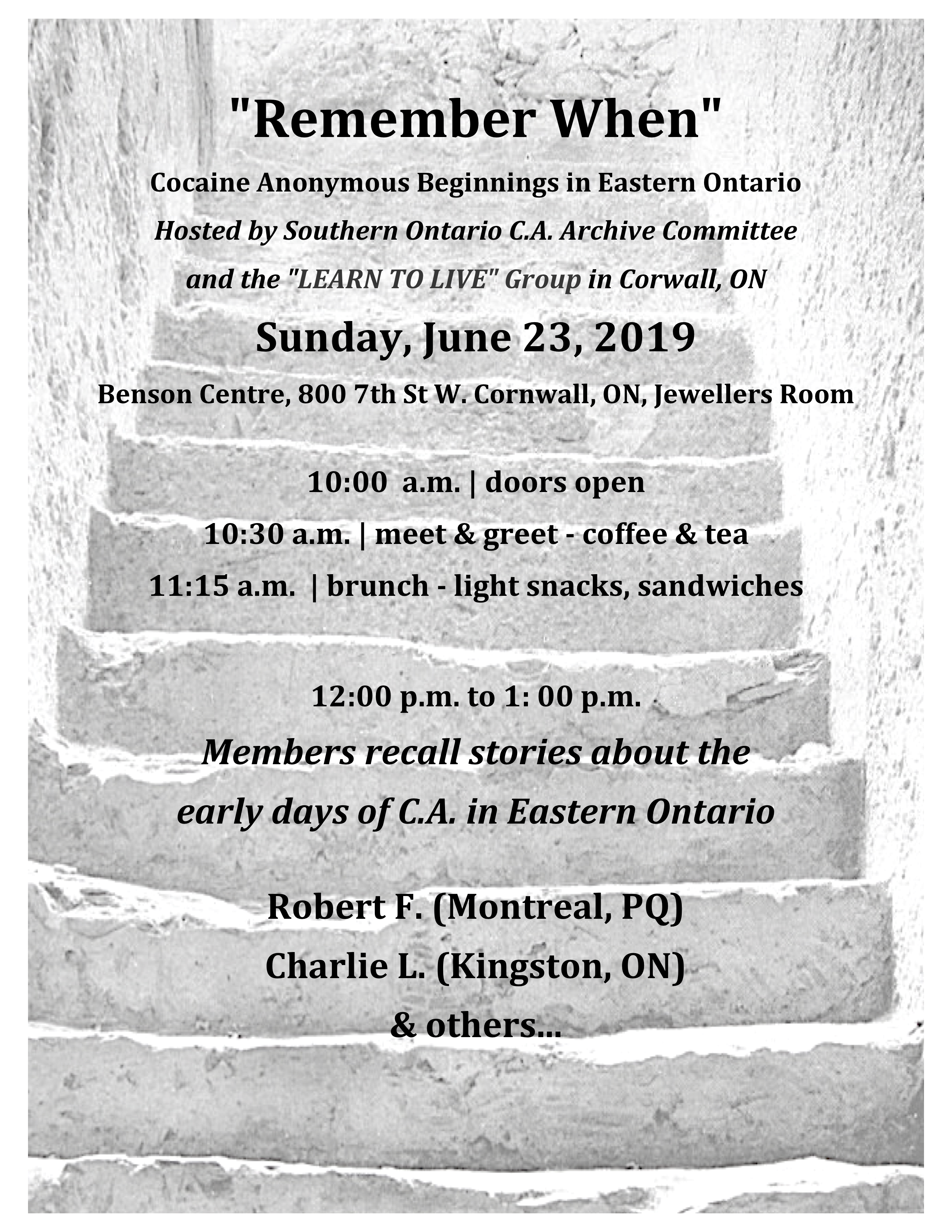 A Brief Historical Timeline of Eastern Ontario Cocaine Anonymous
1st Meeting of Cocaine Anonymous, Hollywood California – November 18, 1982
Nineteen "sober men and women" attend the Tuesday, November 16, 1982 AA meeting, called the "Whatever" meeting to talk about cocaine. It was apparent to Johnny S. and several other attendees that they needed their own meeting and thus, the first meeting of Cocaine Anonymous was held on Thursday, November 18, 1982 in Los Angeles (Hollywood), California. Veronica is the secretary and calls the meeting to order with a gavel and announces:
"Welcome to the first meeting of Cocaine Anonymous, a fellowship of men and women who share their experience, strength, and hope with each other and help others recover from their addiction."
1st Meeting of Cocaine Anonymous outside the United States – August 21, 1986, Montréal, Quebec
In 1986, Robert F. (Montreal, PQ) meets with his friend, Dave S. who is dating a woman from California who introduces him to some C.A. meetings. Dave's enthusiasm for C.A. — a fellowship where one could talk freely about drugs—inspired Robert F. and together they ordered a C.A. starter kit and on a Thursday night, August 21, 1986, the C.A. first meeting was held in Montreal, Quebec—the first C.A. meeting outside the United States. There were about 20 people who attended. Dave S. was the speaker and Robert F. was the secretary.
First Toronto Group – February 2, 1987, Toronto Ontario
In the winter of 1986, Colette went to Montréal where she attended a C.A. meeting, which had only been in existence a few months. At this meeting Colette met Robert F., and many other people who shared similar experiences with alcohol and drugs. Colette's response, "Oh my God I've got to bring this back to Toronto." Colette was given a "Starter's Kit" from Robert F. and so on February 2, 1987, the First Toronto Group of Cocaine Anonymous had its inception meeting at the St. Andrews United Church a on Bloor St. West, where it is still taking place today.
The original inception members of the First Toronto Group were Colette B.R., John J., and Joey B. (aka Popeye). They were soon followed by: John A., Chrissy Y., Abe S., Victor B.M., and Bill S. Many early C.A. members came from the A.A. Delisle Group at Yonge St. & St. Clair.
Ottawa Ontario – March 1987 – Present Day (2019)
By February 1987, the C.A. fellowship in Montreal, Quebec had 11 meetings with interest in getting C.A. established in Ottawa (Ottawa was then a part of the Quebec Area). So in March 1987, Greg, a former cocaine addict with 90 days sobriety, started a C.A. Group in Ottawa. The Group met Thursdays at 8 p.m. at the McNabb Community Centre on Percy St. and attracted between 12 and 15 addicts. By March of 1989, Cocaine Anonymous in Ottawa had a 24-hour hotline and meetings every night of the week at the McNabb Community Centre (Percy Ave.), Jack Purcell Community Centre (Elgin St.), All Saints Anglican Church (Richmond St.), and St. Luke's Church (Somerset St.). Early members included: Greg, Stephen B., Dougie D., Frank, Cheryle B., Kevin O., Lisa, Scotty Joey J., Steve S., Marc B., John K. and Luc R. Meetings in Ottawa continued until they disappeared sometime in 1998.
Then on July 17, 2011, Suzie A. starts a new C.A. meeting, "No Choice" in Ottawa on Sunday Afternoons. Members such as, Matt H., and David K. help keep the Ottawa fellowship alive. In July 2017, Ottawa became part of the Southern Ontario C.A. Area. Meetings in Ottawa continue to this day.
Kingston, Ontario – March 13, 2004 – November 2009
Charlie L. (Kingston, ON) announces new meetings in Kingston, Ontario—Sundays, Tuesday and Fridays. Meetings continue until the last meeting closed its doors in November 2009.
Brockville, Ontario – December 2013 – August 2015
In December 2013, David L. starts the "Together We Can" C.A. Group and by August 2015 the meeting closes its doors.
Cornwall, Ontario – Feb. 2009 – Feb 2015 – March 1, 2018 – Present Day (2019)
Friday nights, the "Spiritual Progress" Group shows up in Cornwall, Ontario and lasts until February 2015 when it finally disappears. On March 1st, 2018, John G. starts the "Learn to Live" Group in Cornwall, which continues to this day.
Southern Ontario Cocaine Anonymous in 2019
Today 32 years later, Cocaine Anonymous in Southern Ontario numbers some 70 regular weekly Group meeting and has a presence in more than 20 hospitals and institutions across Ontario. Our meetings range from Windsor, Ontario to as far north as Ottawa, Collingwood, Orillia, and throughout the Greater Toronto Area.