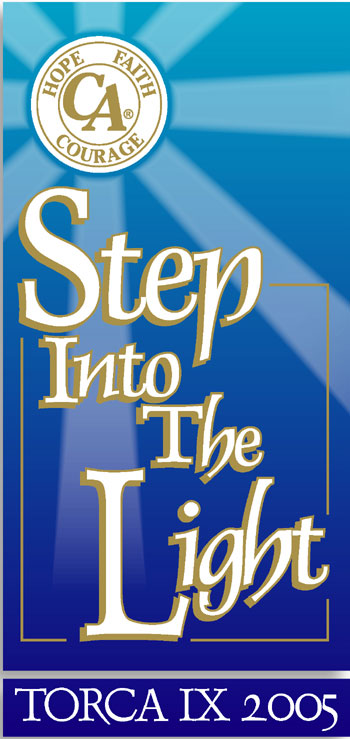 Step Into The Light — TORCA IX Convention — October 21st, 22nd, 23rd 2005 Highlights!
Download 2005 TORCA IX Convention Program
---
2005 TORCA IX Convention Speakers:
Friday Night Keynote: Kelly C. (Salt Lake City, UT)
---
Saturday Night Keynote: Todd F. (Canton, ON)
---
Sunday Afternoon Keynote: Freeman H. (Los Angeles, CA)
---
Saturday Workshop: Life on Life's Terms
Saturday Workshop: How it Works with Ray W.
Local Speaker: Andrew B. (Toronto, ON)
Local Speaker: Jody T. (Toronto, ON)
---
2005 TORCA IX Convention Committee
Chair – Nicole S.
Registration – Rob B.
Treasurer – Elizabeth H.
Alt. Treasurer – Sarah M.
Programming – Patty B.
Secretary – Frank C.
Hotel Liaison – Lorri L.
Hospitality – Siobhan A.
Banquet- Layla N.

Vice-Chair – Kevin S.
Memorabilia – Steve V.
Auction/Draw – Nafisha S.
Fundraising – Jennifer P.
Greeter – Diane F.
Entertainment – Victor B.
Outreach – George P.
Printing & Logo – David M.

Other Members of the Conference Committee, included: Brian C., John B., Terri M., Eric W., Chris C.