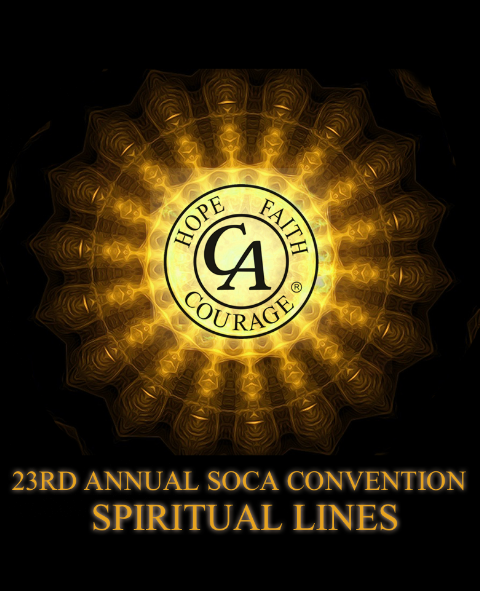 "Spiritual Lines, "23RD ANNUAL SOCA Convention, OCTOBER 18, 19, 20, 2019
Your SOCA Convention Committee for 2019
SOCA 2019 Convention Chair – Christie G. chair@socaconvention.org
Vice-Chair – Ashley B.
Treasurer – John M. (May) / Paul H. (June)
Alt-Treasurer – Brett B.
Programming – Brian D.
Registration – Laurie S.
Secretary – Jared B.
Fundraising – Kelly F.
Internet/Social Media – Jack W.
Hotel/Banquet – Paul H.
Auction/Raffle – Lindsay C.
Outreach – Jamie M. (June 2019) / Kevin G. (July)
Hospitality – Russell E.
Decorating – Amanda R.
Entertainment – Jackie L.
Printing & Logo – Hannah F.
Memorabilia – Matthew W.
Greeter – Katherine F.
Public Information – Gord A.
---
Our 2019 SOCA Convention Program
Main Program Room
Friday October 18
Time
Program
Chairperson
5:00 pm
Convention Doors Open
Registration: Laurie S
8:00 pm
Opening Ceremonies
Christie G. (SOCA 2019 Chair)
8:15 pm
Rob W, Jersey Shore
Ashley B
9:30 pm
Comedy Show and Live Music
Jackie L
Saturday October 19
Time
Program
Chairperson
8:00 am
Step 11 Meditation
Nafisha S
10:00 am
Local Speaker – Billy, Spiritual Experience
Brian D
11:00 am
Workshop – Rob W
12:00 noon
Local Speaker – Sarma M, Lady Gang
Stella
1:00 pm
Workshop – Alan S
2:00 pm
Local Speaker – Danika S,  Spiritual Experience
Nafisha
3:00 pm
H&I
Justice Clarke
Parthi
4:45pm
Banquet Doors Open
5:00pm
BANQUET
7:00pm
Raffle Draw
Lindsay C
8:00pm
*Saturday Keynote: Alan S, New York
Christie G
10:00 pm
Sobriety Countdown
Jackie L
11:30pm
Dance Party!
DJ Pavle!
Sunday October 20
Time
Program
Chairperson
8:00 am
Step 11 Meditation
Nafisha
10:00 am
Local Speaker – Kim C
Dan S
12:00pm
Closing Ceremonies
Ashley B
*Speakers and Workshops will be recorded by SOCA Archives Committee and will be made available on this website after the convention.
Hospitality: 

Marathon Meetings Room: 


Each CA Group presents its regular meeting format to showcase how they carry the message to the addict who still suffers.

Friday TBA
Time
CA Group Name
City
5:00 pm
6:00 pm
A Spiritual Experience
Richmond Hill
10:00 pm
Cross the Line
Newmarket
11:00 pm
No Rock on Brock
Pickering
12:00 am
TGIF
Toronto
Saturday TBA
Time
CA Group Name
City
9:00 am
Lady Gang
Toronto
10:00 am
The Final Straw
Toronto
11:00 am
Saturday Night Live
Toronto
12:00 pm
The Read Deal
Oshawa
1:00 pm
First Toronto
Toronto
2:00 pm
4th Dimension
Mississauga
3:00 pm
Montreal Group
Montreal
4:00 pm
Bridge the Connection
Woodbridge
5:00 pm
Spirit of the Big Book
Toronto
6:00pm                                      Windsor Group
11:00pm
New York Group
New York
12:00 am
All or Nothing
SOCA Convention: https://socaconvention.org
CA Ontario Meeting List: http://ca-on.org/meetings/local-meetings/
CA Info Line: 416-927-7858 / Toll Free: 1-866-622-4636
SOCA 2019 Fundraising Events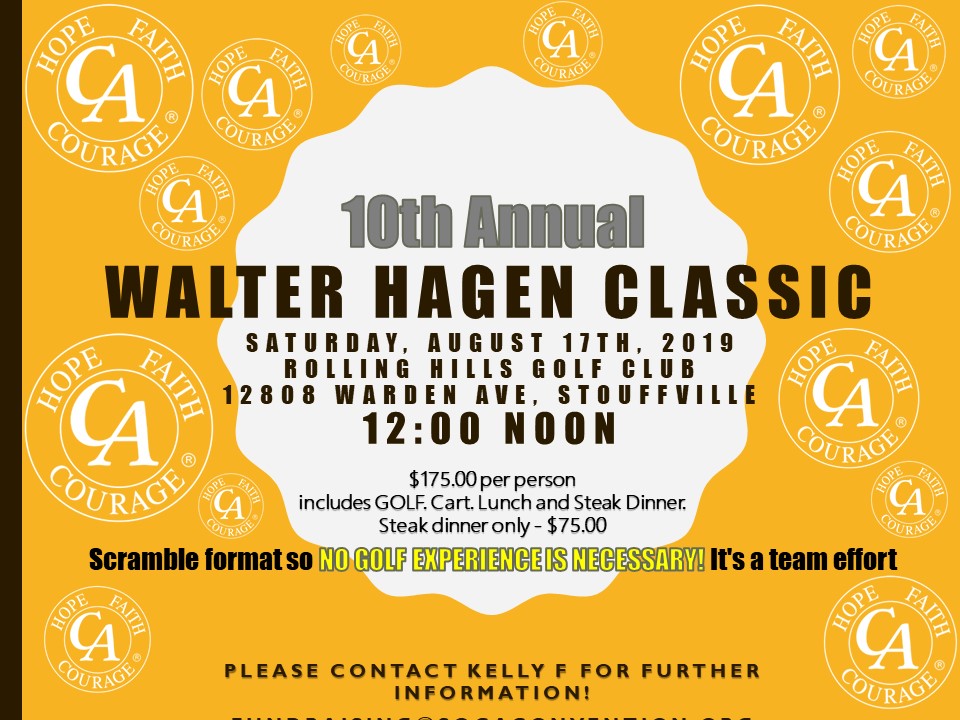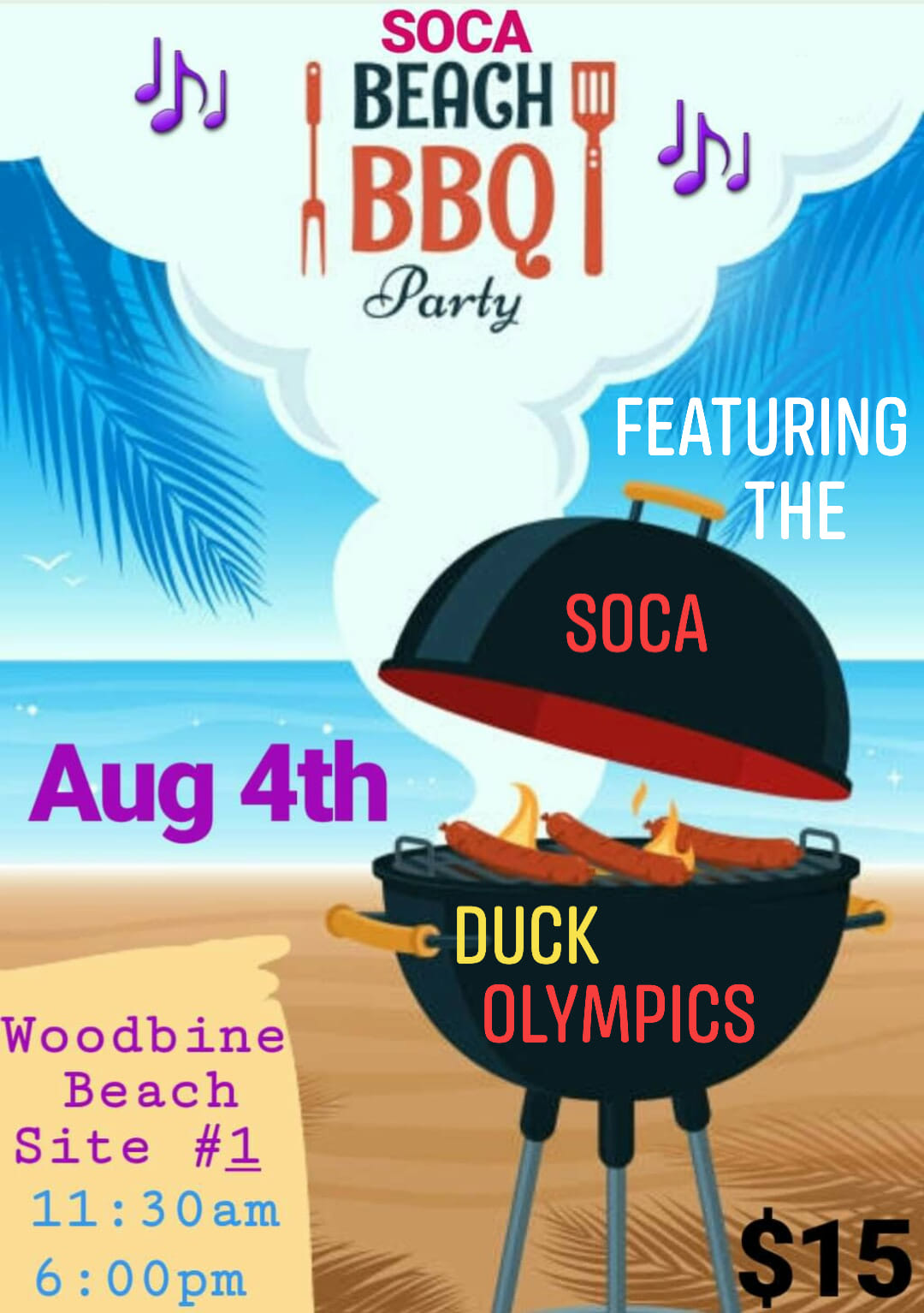 2019 Campout at Turkey Point – July 19, 20, 21.